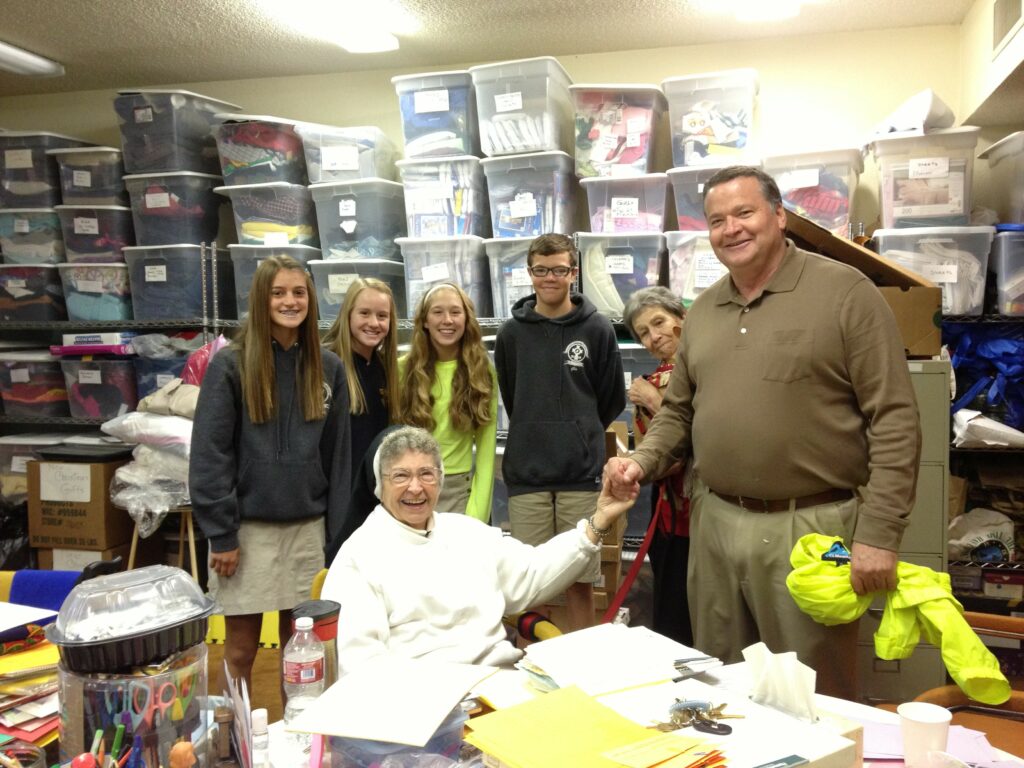 1950 — Our Beginning
1950's — On September 4, 1951, Our Lady of the Snows Catholic School first opened its doors under
the direction of Msgr. Patrick J. Connors to meet the needs of our growing parish. With 107 students and four classrooms, our School was lead by two Dominican Sisters and one lay teacher. By 1953, four additional classrooms and a social hall were added.
Our School was blessed by the Bishop and in 1956 and the first graduation exercises were held with 21 students receiving diplomas.
1960's — The library was added to the existing structure and facilities were redesigned with entrances from the outside.
1970's — The Congregation of the Brothers of Our Lady of the Holy Rosary took over administration of our School beginning in 1971 and remained involved until 1988.
1980's — Many building improvements were made during this period, including a new air conditioning/heating system.
1990's — A full-day Kindergarten program was added in the fall of 1999 in order to better prepare our students for their academic careers. Our library was refurbished, including utilizing our computer system into a laboratory setting, and our lavatories were updated and remodeled.
2000's — A New Millennium
Our school has undergone many changes and improvements since those early years. In 2007, our School was blessed with new leadership. Principal Tim Fuetsch, with over 31 years of experience in his field and Father Tony Vercellone, our beloved Pastor, work together in a collaborative effort to maintain our strong traditions while effectively implementing the most successful educational and spiritual tools available. Our teaching staff is among the most talented, effective and highly qualified in the area. Our curriculum meets or exceeds all State regulations and our rigorous evaluation, certification and accreditation standards ensure continued excellence.
2010 — Technological advancements with SMART Boards,
ELMO's and computers are now part of our classrooms. Our library has been renovated and reorganized with a new computer system and labeling with barcodes for easy check-out and returns. In 2011, we added a Technology SmartLab to our school, providing students of all abilities to creatively engage in science, technology, engineering, and math projects. Our electrical system received a major upgrade and many other improvements have been made to our building. One of our greatest asset has always been our talented staff and we are committed to their continued professional development through use of the latest methods training available. Our Lady of the Snows School has served hundreds of students and now has 1,834 graduates, many of whom still live and work in this area, and many who have chosen to pass on the gift of a Snows education to their own children.
2020's — Laptops, Remote Learning and Digital Classrooms.
Chromebook Laptop computers are supplied to every student in our school for use of daily digital activities to enhance our students' learning, resource awareness, digital security and citizenry, team building, and social development. To facilitate the need for Remote Learning, our faculty has completed Personal Development Digital Education of many online applications and adopted several of them into their daily curriculum. With the full integration of Google Classroom in our daily lessons, we can now adapt to the changing environment and transition into Remote Learning with efficiency and haste when needed. We constantly strive to provide the best education and environments for our students in any circumstance. More modern improvements were made to our building including School Wide Mesh Wi-Fi Coverage, and a newly installed upgraded HVAC  Air Conditioning/Heating System to create the best environment possible for our student's health and protection.